Baltic 2003: 'Omnibuss, Omnibuss'
Part 2 of 4
---
---
Day 7 (Tallinn > Rīga)
There was no train. And no-one knew why. But we'd have to wait until tomorrow evening to catch another. The Russians had 'won' - our visas would soon run out so there was no time to get to St Petersburg and back.
We routemarched grumpily to the bus station on the other side of town where we hatched a cunning plan. For, if a madwoman, Estonian incompetence and Russian bureaucracy could screw with our itinerary, we could screw it up even more. We metaphorically tore up our plans. It was time to go on the buses.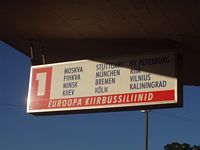 Where to next?
---
I immediately liked Rīga. Probably because it was sunny when we arrived. But it seemed more bustling and more lively than Tallinn. It was also frequently 'under construction' with bulldozers pulling down the old and putting up the new. No wonder that UNESCO threatened to remove Rīga's World Heritage Site status unless they take a bit more care to preserve their heritage.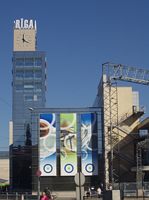 The Rīga tower by day
Rīga was also damned cheap. The price of a McFlurry (my way of measuring a nation's cost of living) was the lowest of the trip so far.
It was cheap enough to stay in a hotel for once. The shiny Hotel Victorija was ten minutes' walk from the Old Town. In the Old Town, I was a particular fan of the Freedom Monument, which depicted a female Liberty holding aloft three golden stars.
| | |
| --- | --- |
| Freedom monument by day | and by night |
We spent the evening watching Latvian karaoke in the main town square, where to our amusement the beers on tap included Abbot Ale. The highlight of the karaoke was the enthusiastic rendition of the Latvian classic "Omnibus, Omnibus". I am determined to track down this song on my return, if only to figure out what the lyrics mean (something about tomatoes).

Abbot Ale!!!

omnibuss, omnibuss
iebrauc manā dārzā kluss
izbraukā man tomātus
redīsus un burkānus
un aizbrauc nezināmā virzienā
Day 8 (Rīga)
Exhausted after yesterday's travel, we slept long into the morning. Once we'd eventually dragged ourselves up, we walked into town. We were getting better at navigating round Rīga. There were four long parallel streets, which we called 'Street 1', 'Street 2', 'Street 3' and 'Street 4'.
Street 1, A Čaka iela linked the railway station and our hotel, a stiff 15-minute walk. Street 2, K Barona iela, had the biggest Rimi supermarket, while Street 4, Brīviības iela, led past the Freedom Monument into the Old Town.
| | | |
| --- | --- | --- |
| Bridge on the River Daugava | House of the Blackheads | Riflemen statue |
We spent a couple of hours exploring the Occupation Museum which charted Latvian history from 1940 to 1991.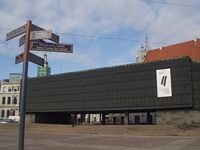 Occupation Museum
The verdict - Latvians had had a pretty terrible time from 1940 to 1991, occupied first by the Soviets, then by the Nazis, then by the Soviets again. 500,000 people - a third of the population were killed or 'disappeared' over the 50 year period. No wonder the Latvians were fiercely proud of their national identity.
There were Latvian national flags (and silly hats) in abundance at the Skonto stadium where Latvia were to take on Hungary in their Euro 2004 qualifier. The stadium only holds 8000, but we had no problem getting tickets, which cost just 5Ls (£6).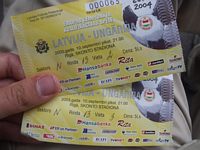 The hottest tickets in town
The atmosphere in the stadium built as kickoff approached...
| | | |
| --- | --- | --- |
| Empty stadium | Nightfall | Warm-up |
The rowdiest group were in Block H, setting off all the Mexican waves. The Latvians, like the Estonians, were supposed to be good at singing, and we were treated to memorable chants like
LAAAAAAAAT-VIIIIIIIIIIII-AAAAAAAAA.....
and
SKOOOOOOOOOOOON-TOOOOOOOOOO.....
Latvia started badly and Hungary looked firmly in control, but the home team fought back and the crowd went berserk after 37 minutes when Verpakovskis went on a brilliant solo dribble and scored. A corner made it 2-0 and Block H were in ecstasy.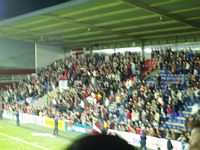 Block H
Queueing for our 'Aldaris' beer, I was befriended by a very fat, very jolly, Latvian fan from Block H. This was probably because I misheard his question and said I was going to order 60 beers (his normal daily consumption). When I explained I was from England and supported Aston Villa, there were looks of horror. "We shit on the Villa! We shit on the Villa!" Yes, I had amazingly managed to find Rīga's only Birmingham City supporter. Fat man's friends' beer purchases meant we missed seven minutes of the second half - and two more goals. Never mind, everyone was happy with the 3-1 final scoreline.
Day 9 (Rīga)
Another long lie-in. Bliss.
We visited the Latvian History Museum, taking us from pre-history up to 1940. This was pretty standard fare. (Prehistoric Latvians used axe-heads? Surely not! Where are the stuffed animals?) The most interesting part was the large collection of medals and decorations given to Vaira Vike-Freiberga, Latvia's president since 1999 and the first female head of state of a post-Communist nation. She seemed to be A Good Egg.
After dispatching a large number of postcards to a large number of people, we went to the market, purportedly Europe's largest, housed in five gargantuan Zeppelin hangars. The guidebook suggested you could buy everything here. Well if you had a major sausage obsession, this was probably true. We invested in some dried apricots, before setting off back into town for the evening.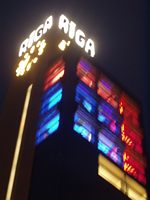 Riga tower by night
The cheapest - and in our opinion the best - way to eat out in Rīga is to go to one of the Lido chain of canteen/restaurants. These follow the tried and tested method of:
Point at what you want
Take an extra-large helping from the salad bar
Pay very little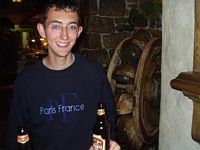 James likes Lido. A lot.
Our plan of action is still under review - if we can get up early enough on Saturday (day 11) we will go to Klaipėda next. Tomorrow we are going to the beach on my insistence... We tried to play bridge again. I became very sleepy.
Day 10 (Rīga > Jurmala > Rīga)
I do like to be beside the seaside. So we got up early to catch the train to Jurmala, a string of seaside resorts just to the west of Rīga.
After some incompetant navigation by me - going to the bus station instead of the railway station - we boarded the train to Majori, one of the Jurmala towns 40 minutes away.
The train was a satisfyingly Soviet experience - hard wooden bench seating in ancient-looking carriages and a stern-faced attendant checking your tickets. The carriages, however old they were, did have automatic sliding doors though - a technological innovation which SouthCentral trains haven't mastered in 2003.
We walked off the platform into Majori which was a one-street town of cafés and guesthouses. In Soviet times 300,000 people a year came from across the USSR for a holiday here. There weren't quite that many people on the beach today, which was long, clean and sandy. The water was bitterly cold (and apparently unsafe to swim in. I wasn't tempted.)
| | |
| --- | --- |
| Oh, I do like to be beside the seaside | Oh, I do like to be beside the sea... |
Large quantities of sand + camera can only lead to one thing, so I lay back and was gradually buried by a large mass of sand until only my head was visible. Getting out again was not that easy!
| | | |
| --- | --- | --- |
| Oh, I do like to walk along the... | prom prom prom... | where the brass bands play... |
| | |
| --- | --- |
| tiddle-y-om-pom-pom... | Trying to escape (Quicktime, 2MB) |
There followed the great Jurmala long jump competition. MAYER M (Crawley AFC) scored 3.20m. BELL J (Harlow) retired hurt with a thigh strain.
Sorry James! Mr Bell's occasional appearances in this narrative are giving an unfair impression of an insomniac hypochondriac accident-prone bridge obsessive. Nothing could be further from the truth. Three cheers for James for putting up with me on holiday!
We went to Lido again, completing the set of four in the city, way to go!