Baltic 2003: 'Omnibuss, Omnibuss'
Part 3 of 4
---
---
Day 11 (Rīga > Klaipėda)
Our hotel in Klaipėda was also called the Hotel Viktorija, but the similarities ended there.
Viktorija Rīga was clean, well-equipped and modern. Viktorija Klaipėda was old and shabby and the toilet was a definite health hazard. It was the cheapest room in town though [30Lt - £6 a night each] so we didn't moan too much. Well, I didn't. Sorry, James...
Klaipėda was a quiet run-down town. Three old ladies sat gossiping on a park bench. A few teenagers looked round the new, empty shopping mall. The Svyturys ship was deserted.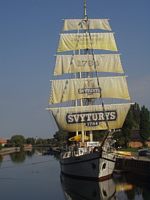 Where is everybody?
Suddenly there was the sound of car horns and cheering. Several groups of cars sped around town filled with young men, half in, half out of the windows, chanting and cheering and waving the Lithuanian flag. Lithuania had won a basketball match, putting them in the final of the Euro2003 championships, and the town (country?) was celebrating.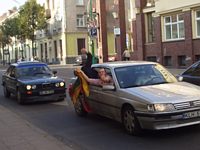 We're on our way to Wembley...
The classiest joint in town according to the Lonely Planet was the Kurpiai jazz club. We had big main meals and got reasonably drunk while the live band did their stuff
| | | |
| --- | --- | --- |
| Nice. | James is not drunk | Matt is not drunk |
A great night's entertainment before we returned to "the cesspit" as James was now calling it.
Day 12 (Klaipėda > Curonian Spit > Klaipėda)
Our trip lurches from one UNESCO World Heritage Site to another (no I don't have a long-term plan to visit them all). The Old Towns of Tallinn, Rīga and Vilnius are so endowed.
Today we were visiting the quite different beauty of the Curonian Spit, a 75km long strip of shifting sands which runs from Smiltynė opposite Klaipėda to the Kaliningrad enclave, part of Russia. The Russians aren't too happy about you nosing around their half of the spit but on the Lithuanian side you can wander through 40 odd kilometres of pine forests and beaches.
After a short ferry from Klaipėda, we took a taxi down to Nida, the southernmost village on the Lithuanian side of the spit. We nicknamed our friendly and rather manic driver Amber Bob, as he had a chunk of amber hanging from his rear-view mirror.
| | | |
| --- | --- | --- |
| Klaipėda from the ferry | Whether the weather be fine... | King of the swingers |
The main attractions on the spit are the impressive sand dunes that rise as high as 60m above sea-level. We climbed to the top of Parnidis Dune (52m) from where there were views to both sides of the spit, as well as into Russian territory.
The dune was capped by an immense granite sundial. We spent a long time figuring out how it worked, which blocks in the ground signified the hours, midsummer, midwinter, dawn, high tides, the price of timber in Beijing, etc etc.
| | |
| --- | --- |
| Here comes the sun | £37 a ton I think |
We took the path down to the beach and engaged in the usual fruitful pursuits of building giant sandcastles, burying James' feet, etc etc. I also fulfilled my aim of swimming in the Baltic Sea. It was terrifically cold.
When we got back to Nida town, Amber Bob had raised his prices so we hung around to wait for the last bus of the day, having dinner in an outdoor restaurant. It was dark by the time we caught the ferry back to Klaipėda. Everyone there was watching basketball, again.
Update: Midnight - great celebrations on the streets, much cheering, car horns honking and waving of giant flags. Lithuania have won the Euro2003 basketball championships. Basketball is the national sport, so imagine England winning the World Cup and you'll get the idea...
Day 13 (Klaipėda > Vilnius)
We said goodbye to the Hotel Viktorija without too many regrets (contact James for the full list of problems).
40 Lt (£8) bought us a seat on a minibus which whisked us to Vilnius two hours quicker than the official bus. I hadn't had a shower or a change of clothes for two days (see above) so we were glad to reach the Filerati Hostel up a hill in Uzupis to the east of the city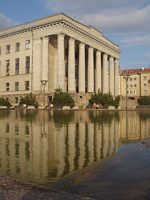 Not our hostel sadly
Vilnius seemed an ideal combination of the better aspects of the other two Baltic capitals - the prettiness of Tallinn combined with the bustle and modernity of Rīga.
Our whistlestop sightseeing tour took in the massive neoclassical cathedral and along Gedimino prospekt to the Parliament.
| | | |
| --- | --- | --- |
| Helene atop the cathedral | There's a storm brewing | Lithuanian Republic |
Here, parts of the graffiti-daubed barricades erected in 1991 to protect the Parliament from Soviet troops had been preserved, the scribbled dates and slogans a reminder of how recent this chapter of Lithuanian history had been.
| | |
| --- | --- |
| Across the barricades | Nasty Russians |
---
One of Lithuania's ethnic restaurants is the PUB. We 'went out for an English' and had some classic PUB dishes including shepherd's pie and apple crumble.
Day 14 (Vilnius > Grūtas > Drusininikai > Vilnius)
It wasn't for the beautiful Old Towns. It wasn't for the golden beaches, green pine forests and icy Baltic Sea. It wasn't for the cheap beer, and it wasn't to pick up lots of new countries.
No, the real reason I wanted to go to the Baltic was to visit StalinWorld. So, you're a millionaire/billionaire and you're a bit bored. What do you do? One option is of course to buy Chelsea. But Viliumas Malinauskas wanted to build a Soviet theme park.
His initial plans, of herding visitors into cattle trucks and deporting them to the park entrance were vetoed by the Lithuanian authorities - the country after all had lost 500,000 people in Soviet deportations and executions.
Undeterred, our millionaire got his hands on all the Soviet statues that had adorned the public places of occupied Lithuania and created the Grūtas Parko Soviet Sculpture Park.
---
Grūtas was 2 hours from Vilnius by bus. At the entrance to the park, a long hoarding showed newspaper cutting documenting the park from initial legal wranglings, to IgNobel prize winner, to the present. Inside the park, the first statue was of Mother Russia looking over a lake.
Despite all the jokes and the arguments and the attention of the world media, the park defied its critics by actually being rather good. Huge statues and busts were set on either side of a winding pathway through the forest with captions explaining who these men (and women) were, why the Soviets had idolised them, and the true effect of their actions.
Soviet music blared out of 'watchtowers', but even the playground and the restaurant and the souvenir hut didn't seem tacky. It was certainly no 'diabolical Disney' as it had been described in some press reports. As some 300,000 people have now discovered, StalinWorld provides a fitting resting place for these statues, whether you consider them high art or propaganda.
---
Bliny (pancakes) for dinner.
Day 15 (Vilnius > Kaunas > Warsaw)
A long time ago we thought we might get a ferry from Klaipėda back to Stockholm. But then we also thought that we were going to Russia. And I thought Bliny was an classical writer, not a snack food.
So we decided to go home by bus instead. There is one bus from Vilnius to London direct, which passes through Poland and Germany. But, it's 40 hours non-stop, and besides, I wasn't going to miss Germany completely. So we took the semi-hardcore option and booked tickets on the 1450 to Berlin.
In the morning we went to the Applied Arts Museum. I played my usual game of "which object would I like to steal?" I settled on a huge sideboard that probably weighed about 10 tons. Then to Iki to blow our last litas on food for the journey. Then, shamefully, to McDonalds. I apologise.
---
Update: 8.30pm, deepest Poland

Caught coach in Kaunas after shuttle bus. Journey- Smooth. Radio reception- average. Passport stamps collected- 2. Food stocks- good. Daylight- fading. Boredom- low, rising steadily. Dogger, German Bight and Viking- 1068. Force 2, falling slowly. North by North East.

Update: Midnight, deepest darkest Poland

Dark. Noisy. Bumpy. Unlikely to sleep. Remembered I can never get to sleep on overnight public transport. Too dark to write. Not sleepy. Bored.

Update: 3.45am, still in sodding Poland

Sleep- zero. Tetchy. Eating bread.

Update: 5.45am (CET), waiting at Poland/Germany border crossing

Soon to be back in the EU. Sleep total remains at zero. Eating cheese. Gained 'extra' hour. James chirpy. Me not chirpy.